Holographic Security Labels
Prove authenticity, prevent forgery, increase visibility
Want To Add Your Review
After you receive your order, you may receive a confirmation email with a link to our Customer Satisfaction Survey.
We ask you to rate us for:
- Price / Value
- Quality
- Service
We ask you to use this scale: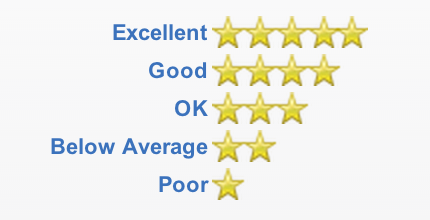 Your rating and your comments are automatically added to our on-site customer review pages. We only use your initials when posting reviews. Ratings and comments are posted as received.

We reserve the right to censor certain language, regardless of the intention - good or bad.
×
Holographic security labels help curtail forgery and prove product authenticity. The iridescent holographic foil on the labels makes it difficult to duplicate or photocopy them. This prevents alterations and protects products, including items such as event tickets, ID badges, and documents, as well as a wide array of other applications. The hologram also increases visibility.
Holographic Security Labels
Our holographic security labels come in three shapes - circle, round-cornered rectangle, and square-cornered rectangle - and a variety of sizes up to 5x5 inches.

You may add your logo or other artwork, and your choice of three colors. The first color is free. Note: The labels are very effective when reverse printed with black or another dark color. The holographic pattern will show through lighter or translucent colors.

The prismatic effect of these security labels increases visibility and deters forgery or duplication. Colors change when the label is moved or when the viewer's perspective changes.

Available in three different image patterns (cracked ice, mosiac, or hyper plaid) and two different word patterns (GENUINE / ORIGINAL or SECURED / VOID IF REMOVED).

Minimum order is 500.
Materials
Holographic Genuine Original

"GENUINE ORIGINAL" wording is repeated forwards and backwards throughout the foil. It is placed within the iridescent holographic background so that the text is readable from both top and bottom.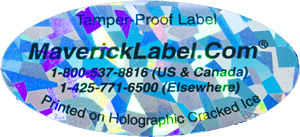 Holographic Cracked Ice

The cracked ice pattern of jumbled geometric shapes is randomly dispersed throughout the holographic foil. A holographic "fractal" design composed of multiple holographic colors is displayed at linear angles to create the cracked ice look.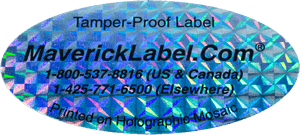 Holographic Mosaic

The mosaic pattern is duplicated and repeated throughout the holographic foil. A holographic "cubes and lines" design is used to create this look.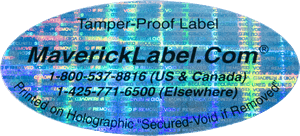 Holographic Security Void

A pattern of "Void if Removed" and "Secured" is repeated throughout the foil. The text is placed within a shimmery holographic background and is readable from top or bottom. "Secured" and "Void If Removed" are on alternating lines.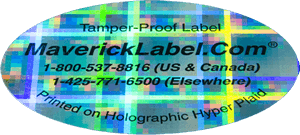 Holographic Hyper Plaid

The hyper plaid pattern of prismatic lines is randomly dispersed throughout the holographic foil. 
All our holographic security foils are printed on 3.7 mil, light-diffracting, metallized paper with a permanent, pressure-sensitive adhesive.

The labels are very effective when reverse printed with black or another dark color, leaving the holographic foil to show through the words or the artwork.

 
Why Maverick?
Production Time
Production time is just 3 business days for our holographic security stickers. Production time begins after you approve your proof. 
By incorporating security labels into your product packaging, you can:
- Guard against counterfeiting and diversion
- Improve revenue
- Reduce the liability risk to your brand
The International Anti-Counterfeiting Coalition tracks counterfeiting globally. They recently reported:
• Counterfeiting costs U.S. businesses $200 billion to $250 billion annually.
• Counterfeit merchandise is directly responsible for the loss of more than 750,000 American jobs.
Holographic security labels customized with your artwork. Optional tamper-evident residue patterns available.