Barcode Labels
This is the starting place for choosing the best barcode labels for your business needs. You'll find our offering to be complete and competitive.
You'll also find information to help you choose the right symbology, materials and barcode label printing options. Choose a tab to get started.
Products
Barcode Labels Information
Kitting Barcode Labels
Why Maverick?
Product Name
Barcode Type
Product Description
Get Quote!

Asset Tags With Barcode

Variable
QR / 2D
Used for property ID applications. Design standard asset tags online or provide custom artwork. Available with 2D QR barcodes. Standard designs ship in 3 days or less.
Product ID Labels
With UPC Barcode
Variable
QR / 2D
Rolls of custom printed product and packaging labels with UPC bar codes. Printed from your artwork. 250 – 10,000 label orders ship in 3 days, over 10,000 ship in 5 days.
UPC Barcode
On Laser Sheets
Fixed
QR / 2D
Sheets of custom printed bar code labels with any barcode symbology. Printed from your artwork. 50 – 1,000 sheet orders ship in 3 days, over 1,000 ship in 5 days.
Blank Laser,
Thermal & Inkjet Barcode

Fixed

Blank Sheets of laser and inkjet stock for printing your own bar code labels. Over 150 different formats to choose from. Orders ship within 24 hours.
2D / QR Barcodes
On Rolls

QR / 2D

Rolls of custom printed labels with QR bar codes (sometimes called 2D barcodes). Printed from your artwork. Orders of 250 – 10,000 QR labels ship in 3 days, over 10,000 ship in 5 days.
2D / QR Barcodes
On Sheets

QR / 2D

Sheets of labels printed with QR bar codes (sometimes called 2D barcodes) in your custom artwork. 50 – 1,000 sheet orders ship in 3 days, over 1,000 ship in 5 days.
Fixed – Static Barcodes
Fixed – static barcodes are printed without sequential information. Each barcode on each label is identical.

Variable – Consecutive Barcodes
Variable – consecutive barcodes are printed with a different barcode on each label. No two labels have identical barcodes.
Codabar

(numeric only)

Codabar barcodes are typically used in barcode label solutions that require sequential issuing and processing of information. Some examples include library systems, membership cards, overnight package delivery systems, and other simple processing and tracking applications.

Code 39

(alphanumeric)

Code 39 is the most popular, general purpose barcode printed on barcode labels. Some examples include serial numbers for any type of hard good (from automobiles to laptops). Asset tags and parking permits are typically printed with code 39 barcodes.

Code 128

(alphanumeric)

Code 128 barcodes are typically used when high reliability code reads are required for the barcode label application.

EAN-13

(numeric only)

EAN - 13 is often referred to as the international retail product code. EAN stands for European Alpha Numeric (barcode). This is the global version of the UPC code used in North America. The primary barcode label application of EAN 13 codes is products that are to be sold in Europe.

Interleaved 2 of 5

(numeric only)

Interleaved 2 of 5 barcodes are the compressed version of EAN-13 code described above. Used to provide barcode product information on small products throughout Europe.

PostNet

(numeric only)

PostNet barcodes were developed by the USPS to make automated mail a reality. Most PostNet barcodes are printed on barcode labels and are ultimately applied to pieces that are mailed through the USPS, ranging from envelopes to catalogs.

UPC-A

UPC-A stands for Universal Product Code. The UPC barcode is required on all products sold in North America and throughout the world. Typically, the UPC barcode is printed on the product ID label.

UPC-E

Compressed UPC code used for barcode labels on small products sold in North America and throughout the world. Typically, the UPC-E barcode is printed as a separate label rather than as part of the product ID label.

2D / QR Barcodes
On Rolls

QR barcodes or 2D (two dimensional) bar codes contain more information than typical one dimensional barcodes. One dimensional barcodes get wider as more data is encoded – but 2D barcodes simply use more complex patterns to contain more information.

Typically, QR barcodes are applied by a thermal printing device. QR bar codes make use of the vertical dimension, allowing for more data to be stored. Bear in mind that using more square inches and a larger label will add expense to your barcode label order.

2D barcodes can be scanned or "read" by many smartphones. The 2D barcode became possible as auto scanning CCD and laser technologies – and image identification software – have replaced the original 'light pen' type of scanner.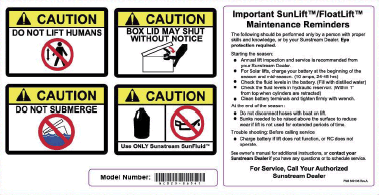 Combining Many Labels To Make One Label is "Kitting"

Label kitting saves time and money.
The example shown is priced as just one label. You save money on your label purchase by ordering multiple labels cut into a larger label sheet instead of purchasing multiple orders of smaller labels.

"Kitting" eliminates the need for storing and matching many labels to a single piece of equipment or a product – since all of the labels are already "kitted" together. Use barcodes and numbers and even different artwork and text on each label that makes up the barcode label kit. You show us where the cuts and artwork go and we'll print each "kitted" label accordingly.

Get barcode label kit samples
Kitting Barcode Labels
Our label kits let you combine many labels onto a single sheet. This will greatly reduce your printing cost and can save you time when you apply the labels.

Label Kits save you time and money
We are one of the few label printers in the business who can save you time and money by offering a single sheet option for your multiple label needs.
Custom Printed Barcode Labels
Custom printed barcode labels include the barcode symbology of your choice and are custom printed from artwork you provide.
Review custom barcode labels

Off–the–Shelf Barcode Labels
Off-the-Shelf barcode labels include thermal transfer rolls and cut sheet blank stock for printing your own barcode labels.
Review off the shelf barcode labels
> Quantity Ranges:
Custom printed barcode labels are available in quantities from 1 to 100,000 or more. Quantities of 20,000 or fewer barcode labels are typically produced using digital printing technology. Off-the-shelf bar code labels have low 1 roll – or 1 package – minimums.

> Sizes and Shapes:
We offer hundreds of standard label dies for traditional custom barcode label printing. We also offer digital barcode label printing, enabling you to design your custom printed barcode label in any size or shape without the need for costly custom dies and tooling.

> Materials:
The range of materials we offer for barcode label printing is nearly limitless. We do suggest that, for optimum barcode label scanability, you work within the requirements of your scanners - or with scanner requirements used by companies that will scan your barcode labels.

> Rolls. Sheets. Pieces:
Barcode labels can be printed on rolls, sheets or individual pieces. Typically, roll and sheet barcode labels are printed using traditional flexography while individual pieces are printed digitally in quantities of 20,000 or less.

> Variable Text Printing:
In addition to adding barcodes to your labels, we can add variable text and numbering. Typically, variable printing requires digital printing. Digital printing is best suited for quantities of 20,000 or less.