Custom-Printed Tags & Connectors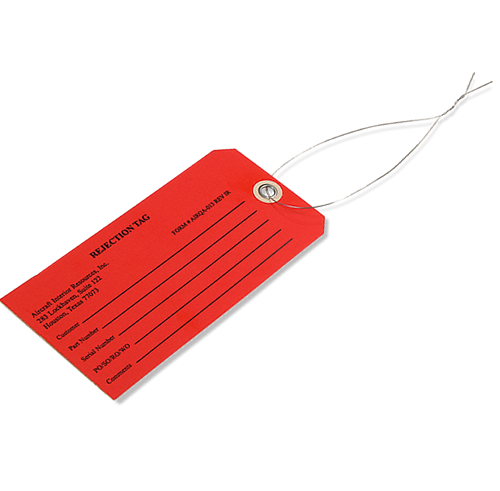 Available in the most popular sizes and color options
Want To Add Your Review
After you receive your order, you may receive a confirmation email with a link to our Customer Satisfaction Survey.
We ask you to rate us for:
- Price / Value
- Quality
- Service
We ask you to use this scale: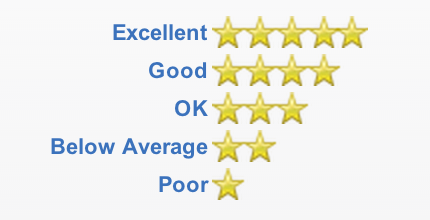 Your rating and your comments are automatically added to our on-site customer review pages. We only use your initials when posting reviews. Ratings and comments are posted as received.

We reserve the right to censor certain language, regardless of the intention - good or bad.
×
• Printed in black ink on your choice of 7 colors
• Available in popular #5 and #8 sizes
• Add consecutive numbering in any position
• Double-sided printing available
• Pre-punched reinforced eyelets
• 5-day production (1000 minimum quantity) Learn More...
Custom Tag Sizes

We keep size choices simple and affordable. There are thousands of custom tag sizes out there but just two of them handle most custom tag needs. To make your job easier and to make sure you get a common size that will always be around – and as a result - affordable - we offer the #5 and the #8 custom tag sizes. Common, usable, low cost custom tag size choices.

Custom Tag Materials

There are 7 custom tag materials to choose from. Traditional manila and white are the most popular colors – and we have them. We also give you high alert colors including yellow, red and orange. These are the right colors for danger, warning, RTK and other types of custom tags that require high visibility. 

Connectors

Your connector choices are: 

9 gauge twine cut string or 26 gauge wire or no connectors.

Need wire connectors for your custom tags? Got 'em. Rather have twine connectors? We have those, too. Don't want connectors? No problem. If you do opt for connectors, check the "I Need Connector" box on the pricing page. If you want your tags strung with twine when you get them, just check the "Pre-String Connector" checkbox that appears when you select twine.

Numbering

Consecutive numbering can be printed in any position on your custom tag. All numbering is printed in black ink in our standard numeric font size and style. Note: Please indicate the location of consecutive numbering in your artwork to avoid delays.
Custom Tag Information:

Custom Tag Sizes
• The most common sizes for custom-printed tags are #5 (2 3/8" x 4 3/4") and #8 (3 1/8" x 6 1/4").
• Our custom tags feature traditional slant cut sides running towards the pre-punched, reinforced eyelet.

Custom Tag Materials
• The most common colors for custom-printed tags are manila and white. Yellow, orange, and red are great options to draw attention and are often used for danger or alert tags.
We offer either twine cut string or wire connectors for your custom-printed tags.

Custom Tag Connectors
• 9 Gauge Twine Cut String: A popular connector option that is easy to remove or replace as needed. Ships loose or pre-strung. Note: For the pre-strung option, click the "Pre-String Connector" check box when placing your order.
• 26 Gauge Wire: A good connector option for tag applications that require added durability and security. Wire connectors ship loose. 
• No Connectors: If no connectors are needed, then we won't add them to your order.

Custom Tag Numbering
• Your numbering choices are: no numbering or numbering in any one location.
• You can put numbering in any one location on your custom tags. We simply ask that you indicate where you want your number located in your artwork or design file. You can also opt for no numbering.

Uses For Custom Tags:

The uses for custom-printed tags are endless. With consecutive numbering, tags are a great way to supervise inventory, record keeping, or track shipments. Or, use as a safety alert for the workplace by drawing attention to temporary hazards.
 
Custom-printed tags ship in five days from your artwork. Consecutive numbering and two connector types available.
Custom Tag Ordering - The Choices Are Yours
Get Pricing Now




Secure.
We're serious about protecting your personal information. Our site is guaranteed secure by GODADDY.com. You can click on the SECURED icon anytime for an instant report on the security of our site. We do not share your personal information with other parties. Your personal information is your own and that includes details about the inexpensive labels that you buy. 


Trustworthy.
We're rated A+ by the Better Business Bureau. We've been providing labels, online since 1990 and have serviced hundreds of thousands of customers – one at a time. Our cheap labels customers love us. We know that you will, too.
 



×