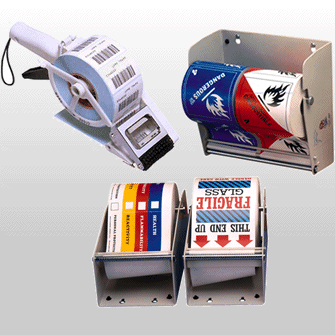 Label Dispensers & Applicators
Label Dispenser And Label Applicator Products – Manual And Electric
Manual and electric label dispensers are available in styles suitable for almost any need or budget. We are the best online source for label dispensers because we offer the broadest range of manual label dispenser and electric label dispenser and applicator choices. If you don't see the label dispenser you need, simply contact CustomerCare and we'll find what you're looking for.

Many Roll Label Dispenser and Applicator Options
Our label dispensers come in different widths to accommodate different applications and spaces. For the bindery or shipping room, we offer manual multi roll label dispensers that hold up to 4 rolls of shipping related labels. For high speed removal of labels from sheets, we offer both wide and narrow format electric label dispenser solutions.
All label dispensers and applicators ship within 24 hours!
Label Dispenser
Label Dispenser Return
Customer Reviews
| Images | Size | Item # | Use | Holds Label Rolls | Description | Price | Quantity | Total | Add to Cart |
| --- | --- | --- | --- | --- | --- | --- | --- | --- | --- |
Label Dispenser Return Policy
If we incorrectly shipped your label dispenser or label applicator, no charges will apply for shipment of your corrected order.
To return a label dispenser or label applicator, please obtain a factory authorization number from our CustomerCare team. Label dispensers and label applicators must be returned within 30 days from the shipment date. When we receive your returned label dispenser or applicator, it must be in original packaging and in saleable condition. A 15% restocking fee, plus applicable freight charges, will be applied to all returned label dispensers and applicators.


Our Guarantee
We guarantee your 100% satisfaction with our products. We stand behind our guarantee by offering you a prompt refund or replacement of your product.
If the product you receive does not meet your expectations, please contact us upon recognizing the error so that we can replace the product in a timely manner. If your product has a manufacturing defect please let us know right away. We will identify the problem and promptly initiate a replacement order for you.

See our complete guarantee.
Customer Reviews
Label Dispensers

Rating Totals:

8

Ratings including

4

Reviews

Overall Rating: 4.2/5.0

4.2



Value for Price: 4.1 Quality: 4 Service: 4.5


Reviews are collected from customers who have purchased this product.

Ratings contain just star rankings. Reviews contain actual written comments.


Maverick Review
Reviewed by
J.M. - Quakertown, Pennsylvania
Overall Rating:
4.2
/
5.0
4
Value for Price: 4Good
Quality: 3OK
Service: 5 Excellent
Maverick Review
Reviewed by
D.H. - Glenwood, Minnesota

Overall Rating: 4.2 / 5.0 4
I thought over all you did anice job.

Value for Price: 4Good
Quality: 4Good
Service: 4 Good
Maverick Review
Reviewed by
M.M. - Kent, Washington

Overall Rating: 4.2 / 5.0 4.3
Thank you

Value for Price: 4Good
Quality: 4Good
Service: 5 Excellent
Want To Add Your Review
After you receive your order, you may receive a confirmation email with a link to our Customer Satisfaction Survey.
We ask you to rate us for:
- Price / Value
- Quality
- Service
We ask you to use this scale:
| | |
| --- | --- |
| Excellent | |
| Good | |
| OK | |
| Below Average | |
| Poor | |
Your rating and your comments are automatically added to our on-site customer review pages. We only use your initials when posting reviews.
Ratings and comments are posted as received.
We reserve the right to censor certain language, regardless of the intention - good or bad.