Custom Printed Laser And Inkjet Labels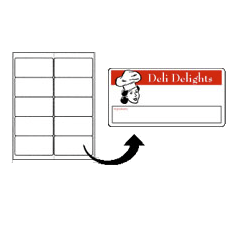 Labels by the sheet with 3 to 5 day production time
Want To Add Your Review
After you receive your order, you may receive a confirmation email with a link to our Customer Satisfaction Survey.
We ask you to rate us for:
- Price / Value
- Quality
- Service
We ask you to use this scale: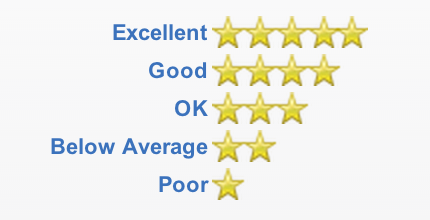 Your rating and your comments are automatically added to our on-site customer review pages. We only use your initials when posting reviews. Ratings and comments are posted as received.

We reserve the right to censor certain language, regardless of the intention - good or bad.
×
We offer top quality custom printed laser and inkjet labels. Your custom label artwork is printed on a wide range of label stocks, from white to clear. Minimum custom printed inkjet labels quantity is 1000 sheets (50 for CMYK). 3 - 5 day turnaround. Learn More...
Using Your own Laser or Inkjet printer

Get The Best Quality Printing For Your Laser/Inkjet Labels

We offer spot or full-color printing with the best possible laser-safe inks and label materials available. We don't just "stick you" with one material choice.

If you have questions about Laser/Inkjet labels, please use the online information or contact us for "live" expertise.

AVERY® CROSS-REFERENCE CHARTS
Custom Inkjet Laser Information:

Custom Printed Labels By The Sheet Features:

 - White, Removable & Clear Materials
 - Custom Inkjet Labels In Just 3 to 5 Days
 - Spot and CMYK- Digital Printing
 - Free Proof With Each Order
 - 100's Of Sizes & Shapes
 - 3 to 5 Day Production
Inkjet and Laser Printable Labels. Popular, competitively priced laser labels and inkjet printer labels - custom labels similar Avery.
Quality Laser And Inkjet Printer Labels Customized For Your Convenience
Get Pricing Now
100% Satisfaction Guarantee.
We know that quality and value begin with choices that make sense for your unique business needs so we offer more that a dozen label and adhesive choices for laser/inkjet labels.


Custom Printed From Your Artwork.
Your custom laser/inkjet labels will be custom printed from the artwork design that you provide. Going "custom" with your labels offers many advantages:
- Design reflects your look and feel
- Reduces your ink use and cost
- Cuts printing time.


Over 15 Different Configurations
From 4 to 32 labels per sheet, we have the label format that you need for your business. Each of our formats is compatible with Avery® like templates, so aligning your labels is a snap. If you need a custom size, shape or positioning for your custom laser/inkjet labels, just let us know. We enjoy meeting your custom needs.





Inkjet or Laser – There's A Difference?
Not all laser labels work with all inkjet printers. Maverick makes it easy to get the right labels.


Laser printer labels are unique. Many have special coatings to protect the label stock from heat – and to help ink stick.

Inkjet printers need special label coatings to make sure that inks dry quickly.

A Perfect Match!
Our material selections clearly indicate laser and inkjet materials to help you choose the right one for your project.



×