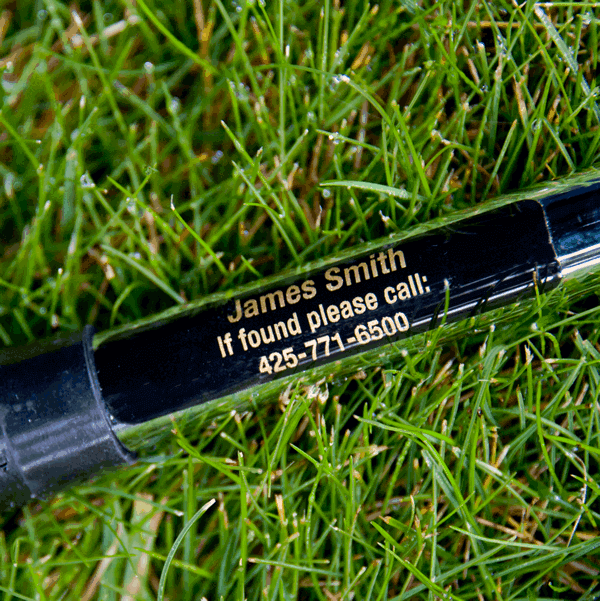 Club Valet® "Never Lose A Club "
Golf Club & Sports ID Labels



Club Valet© brand golf labels are simply the highest quality golf club labels available anywhere!
- 16 Golf labels per order - on 1 sheet
- Each order is just $6.95
- FREE SHIPPING ANYWHERE in the WORLD!**
- Arrives via First Class mail in about 5-10 days
- As seen in "REAL SIMPLE" Magazine!

What a great gift item for the avid golfer and sportsperson. Use for golf club labels and sports gear of every kind. Use our golf labels – or IDmyStuff® to identify gear boxes, tool boxes, bags, racquets, bags and more.
**COMPARE! Our competitors charge up to 25% of your order price just for shipping and you don't find out until you check out! (Competitors charge $2 to $7** more per order!)
Great Gift Idea!
Perfect Stocking Stuffer!
Order by Thursday 12/17/15
to ensure delivery
by Christmas (USA deliveries)
Golf Club & Sport ID Label
Customer Reviews
Best Golf Label Quality
Golf labels are custom printed for you on super premium outdoor metallic gold vinyl. We add a layer of high gloss "wetlook" clear polyester for durability and a rich "original equipment" look. Golf club labels look great on any club shaft. Waterproof – Detergent Proof – Will Not Fade – Resistant to most solvents and virtually all abuse your clubs – or any of your gear – might encounter.
Customer Reviews
Golf/Sports ID Labels

Rating Totals:

36

Ratings including

8

Reviews

Overall Rating: 4.8/5.0

4.8



Value for Price: 4.8 Quality: 5 Service: 4.6


Reviews are collected from customers who have purchased this product.

Ratings contain just star rankings. Reviews contain actual written comments.


Maverick Review
Reviewed by
J.M. - South Euclid, Ohio
Overall Rating:
4.8
/
5.0
4
Value for Price: 4Good
Quality: 5Excellent
Service: 3 OK
Want To Add Your Review
After you receive your order, you may receive a confirmation email with a link to our Customer Satisfaction Survey.
We ask you to rate us for:
- Price / Value
- Quality
- Service
We ask you to use this scale:
| | |
| --- | --- |
| Excellent | |
| Good | |
| OK | |
| Below Average | |
| Poor | |
Your rating and your comments are automatically added to our on-site customer review pages. We only use your initials when posting reviews.
Ratings and comments are posted as received.
We reserve the right to censor certain language, regardless of the intention - good or bad.