High gloss and subtle shimmer makes these hard to copy
Diamond dust, our premium high-gloss vinyl laminate, contains a high concentration of light refracting elements, adding sophistication to your artwork as well as making the labels difficult to forge, copy, or reproduce. It appears to advantage over darker colors and lends a subtle shimmer to lighter colors, including silver or white.
Diamond Dust
Our 3-mil Diamond Dust laminate can be applied to a wide variety of polyester and vinyl materials. It's designed for high-profile applications, to make your product stand out from the crowd. Its light-refracting properties also function as a security feature; it cannot be photocopied or easily reproduced.

This laminate is rated for 5 years outdoors (temperature range from -50F to 225F), stands up to abrasion and harsh chemicals, and may be used on flat or slightly curved surfaces.

The versatility of the laminate and the label material means that we can accommodate a wide range of label sizes, as well as allowing for cutouts and irregular shapes. There is no limit to the number of colors you may use. Barcoding and sequential numbering is also available.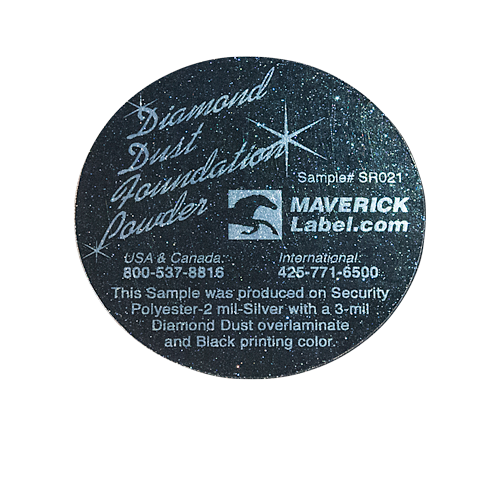 Specifications:
• Light-refracting additives provide a unique effect to your artwork
• Darker colors benefit most from higher contrast
• Makes your product stand out from the crowd
• Cadmium-free 3-mil high gloss product
• Glittery look is hard to photocopy or forge, adding to security

Ideal Markets:
• Security applications
• Cosmetics
• Electronics
• Promotional, Limited Editions and other speciality labels
• Any label that needs some extra pizzazz or glamour
 
• Barcodes and/or sequential numbering may be added to your labels
• Can handle abrasion or harsh chemicals
• Service temperature range: -50F to 225F

More anti-forgery options
Ask about our UV labels, made with UV-fluorescent inks - invisible under normal light, a pattern is revealed when viewed with a UV light.
Why Maverick?
Go ahead. Be a Maverick!
Whatever design freedom you need – you can have. We print your labels to the exact size and shape that you require – at no extra charge. Create vinyl or polyester labels without any restraint on budget, size or shape. 

Get A Few – And Get Them Fast
The minimum order for "diamond-dusted" labels is 1. No set up fees, no die cutting fees and no numbering fees. We ship our diamond dust labels in just 3 days; faster when you need it.
Durable.
When paper isn't durable enough for your labels, vinyl and polyester are excellent choices. These durable materials are water, abrasion and fade resistant. Polyester and vinyl labels also hold up better than paper across a wider range of temperature exposure. The Diamond Dust laminate adds increases label durability.
Any size or shape.
Our Diamond Dust labels can be cut to any size and any shape – at no extra charge. We use highly precise digital cutters to reduce cost and turnaround time by eliminating the need for traditional "dies" and tooling. As a result, you can affordably design your vinyl labels and polyester labels to any shape and size you need. You can add internal holes, slots and cuts as well. The labels can be left on a roll or provided as Individual pieces.
Anti Forgery Labels - Your Custom Artwork, Our Diamond Dust